YHHF. Vol. 9: BINA. Is ethereal
+ new heat for your consideration
Big Talk: BINA. Is ethereal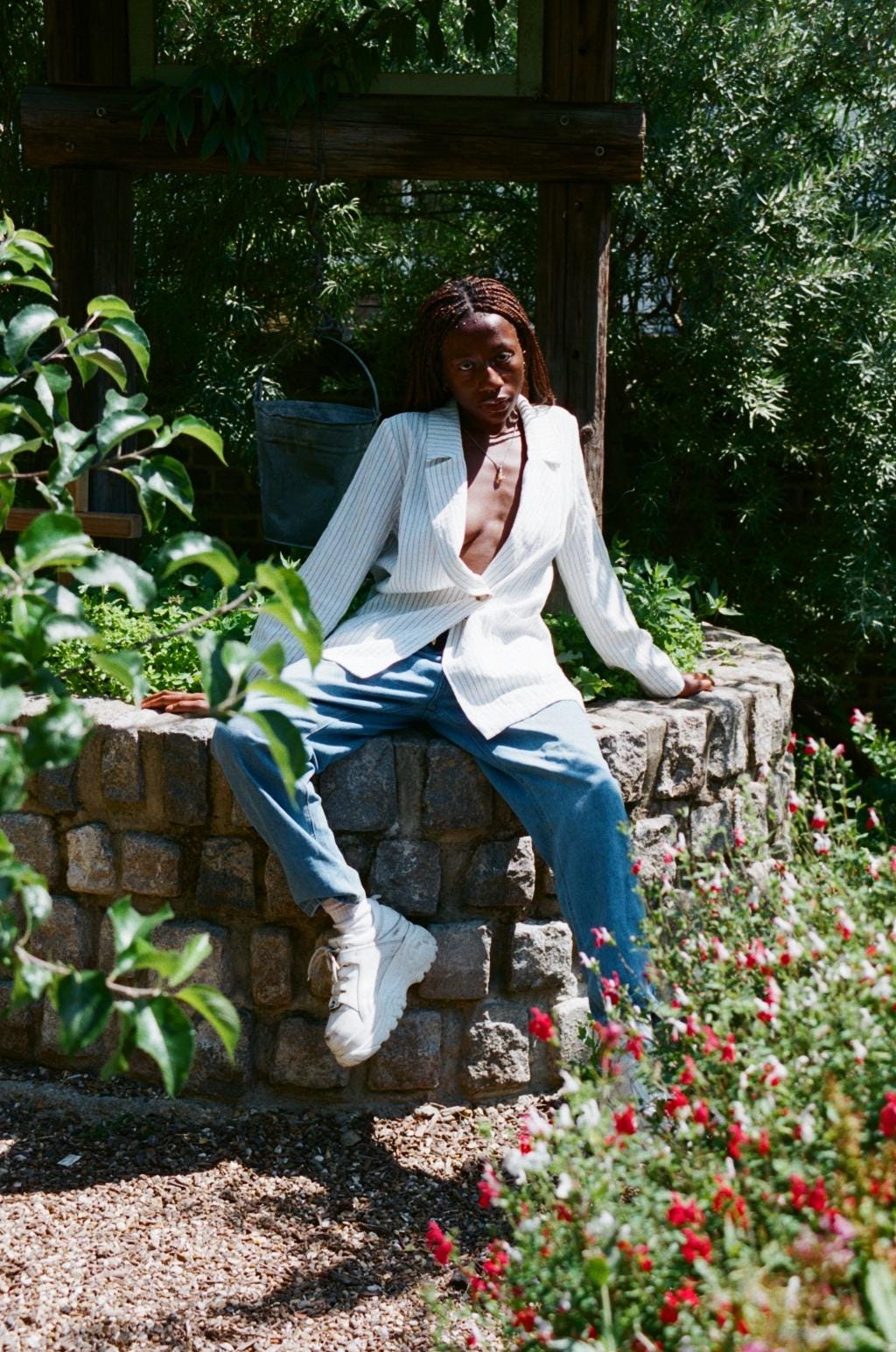 BINA. calls herself a mad scientist. And she's not joking. The South London-based singer is seemingly always in the process of creating something different: songs, live renditions, or innovative concert experiences that invite people to the core of her artistry. It's all part of the 20-year-old's process of synthesising hyper-realistic life experiences into digestible sonic forms that resonate for people across the spectrum. Her music, a hypnotic blend of neo-soul and R&B that thrives on its hazy, stacked vocals and overall cohesiveness, emphasises the presence of the human behind the artist, the heart that lives the experience, and the duality of both representations.
Last year, BINA. put out her debut E.P., Humble Abode. The project excelling as a canvas of BINA.'s various moods, needs, and, occasionally, wandering spirit. "Prisoner" deals with liminalities, and her third person referencing resembles an out-of-body experience. Ending with the wistfulness of "Stargazing," Humble Abode showed a singer not scared of asking herself uncomfortable questions of herself as in the process of bringing her voice into sharper focus.
Her latest single, "Dark Cloud," released in September, doubles down on her knack for seeking out shadowy beats seemingly custom-made for her wizened voice, allowing her feathery vocals skate lightly around the instrumentation and bring her words to the forefront. BINA. continues to rise drop-by-drop.
Our conversation, edited for context and clarity, follows below.
Do you remember when you knew music was what you wanted to do?
Yeah, I remember quite vividly actually. I was around 16 and somebody told me about this studio that was local to me. So, I started going this and started like writing stuff. From then on, I was like this is what I wanted to do full-time. But before then, I'd always loved singing and I'd write little things here and there when I was younger but it was four years ago when I realised I wanted to do music properly
What music did you use to listen to or just sing along to?
I listen to a lot of different music. Kind of just depending on what mood I'm in. Recently, I've been really enjoying Tame Impala but, generally, I like to listen to Amy Winehouse, Solange, and Erykah Badu. But the more I've been playing the guitar recently the more I've enjoyed music that is primarily made from the guitar. I like mellow music but I like upbeat music too, I fuck with Rico Nasty. I have my upbeat playlist and my mellow playlist. Also, my dad used to make music at home, so, I used to listen to a lot of the music he made and I used to listen to Kenny G with my mum.
What has been an interesting thing about being an artist since you started music?
Even though I decided I wanted to do music four years ago, I only properly started two years ago when my first single actually came out but the interesting thing is that the two years before were me just developing myself, figuring out how to even write a song. But in the past two years, I would say the most interesting thing has been realising how much what I say can affect other people. When I've been making music, people would message me like, "This song got me through this period of time" or "I really resonated with that," and all I'm doing is telling my own story about my own life. But it's interesting how your story can connect with so many other people's
Does that scare you, that your songs can have that effect on people?
Not really. It empowers me if anything. I think it makes me feel more encouraged to continue. To lay it all bare, I suppose. I've always felt it was important to be honest with my music, but you can be honest and still withhold things sometimes. But it's just about talking your shit as honestly as possible.
How do you approach putting these honest thoughts into song form?
I just freestyle. I freestyle because it allows me to be less sensitive in my approach or what I say. It's just everything in my head at the time comes out directly unto the recording and then I can always go back and edit to make sure it makes sense but as long as the story is out there in its rawest form I feel that's the best way.
Do you feel like your environment plays a part in your overall music process, maybe even getting in the mood to sing?
Yes, to some extent. I feel like South London is such a culturally-rich place so there's a kind of inspiration. In terms of the sound you're surrounded by, the people you meet, and I don't think it's necessarily specific to South London, it's London as a whole. You are meeting a load of people and being consistently connected to people. But, obviously, in my last song, I kind of referenced South London and it does inspire me. I wouldn't say get in the mood to sing. I spend a lot of time in the mood to sing but in terms of being in the mood to write, it's just whatever is going on in my life.
Your newest song, "Dark Cloud," sounds a lot like it was inspired by the time loop of the quarantine and lockdown, did that play any part at all and how did you make it?
The funny thing is that that song was actually made a while before lockdown. I think I made the song in January, at least in its first form. Most of the inspiration behind that song was primarily events that happened before lockdown. Lockdown just gave me time to make sense of a lot of what was going on in my life before lockdown happened. It definitely wasn't inspired by lockdown, it was stuff before that. And with the song, a producer from Atlanta Thxnkq sent me some beats and the beat I used for "Dark Cloud" was among them. I had the beat, I really fucked with it from the get-go and later on, primarily during the lockdown, I went back to listen to the song and added things and swapped things around so it made more sense.
How do you decide on the people you collaborate with? Producers and artists?
I just go by who I think will sound best on the track. Most of the time, I always have a mental list of people I want to work with, and then when the time is right I just reach out or they reach out to me. Also, I meet people thought people as well. You can never underestimate the power of networking, it's so important.
What are you looking forward to doing next?
Well, I'm working on a project which should be coming out very soon. I'm just planning to collaborate with a lot more artists, a lot more producers.
Stream "Dark Cloud."
New heat: Three songs you need to listen to 
Ridah - "Stronger"
Too often, women in Nigerian pop are not being assertive about desire or what they want in their music, and while Ridah "Stronger" does not fundamentally represent a gatecrashing or a change in that status quo, she takes things up a notch with a declaration of intent. Her debut single is instantly infectious, boasting the rythymic pulse that makes so many Nigerian songs fan favourites while simultaneously slowing the pace in homage to what popular Nigerian music in 2020 has looked like.
Stream "Stronger."
July Drama - "No Comma"
It's seemingly hard to maintain any positivism about this moment in time but "No Drama" is a summoning to try and appreciate our lives in any way we can. "You know tommorow's gonna be better than today," July Drama admonishes. And that's the only we should approach life right now. July Drama's grovelling and cadance-bending makes the strong so special and he never appears to be out of depth or in danger of fading out.
Stream "No Comma."
Zarion Uti ft. BUJU - "Rain or Shine"
Something about how BUJU's voice filtered from the background out makes this song compelling but Zario Uti's delivery slightly leaves the Spaceship Collective artist in the shades. Zarion takes a prominent role on the song, supplying melody and a background to all that happens here and when BUJU finally appears, he can only add his signature sheen to the song.
Stream "Rain or Shine."