There is no one quite like Jake Doe
+ new heat for your consideration
Big Talk: Jake Doe on authenticity and song-writing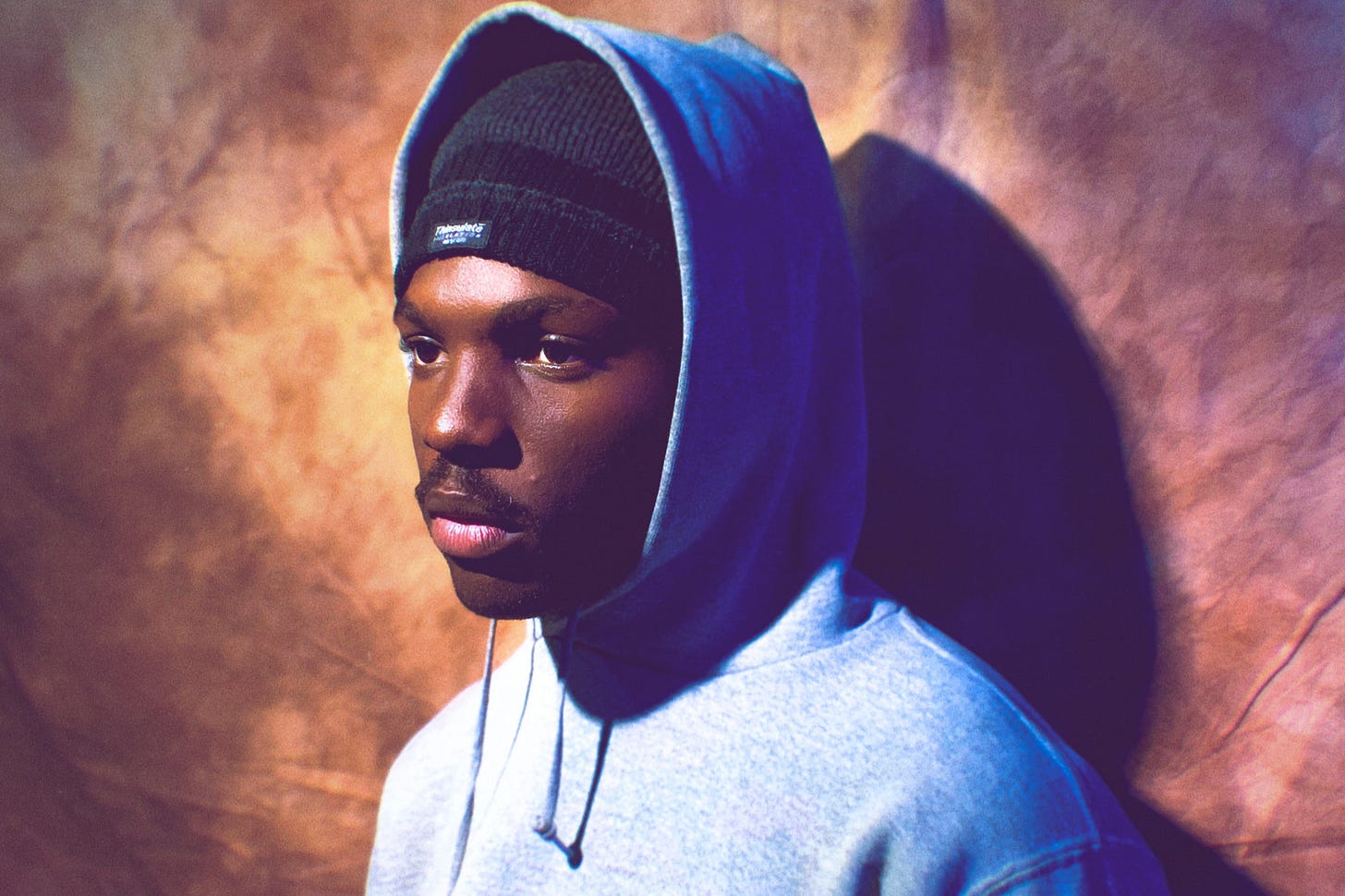 I think we can all agree that 2020 has been one of the most testing years in our collective histories, and I've heard it said many times that the arts are here to comfort us, to catch us lest we bruise our heels. I don't quite buy into the sentiment that music is here to save us but I do know that it will be with us through the darkest of times in all its raw and visceral glory. Music will affirm and acknowledge us when we teeter on the edge of hurt and pain. Jake Doe, foremost radiant musician, understands this more than most people.
"I recorded a song in 2015; a top rap act in the country (had) recorded a song and I released something for him," Jake Doe says at some point in our discussion last week. "He told me that at that point in his life he was about to quit music because he wasn't really feeling it. Then I did that verse that addressed somethings he was facing in his life at that moment and it was a boost for him too."
There's no doubt for me that Jake Doe's music has the power to help people. His songs channel the excavating thrust of a visit to a therapist's office into sonic gems that crisscross genre boundaries; questioning, probing, and seeking answers to questions that are everyday fare but have tremendous significance in life.
His January 2020 extended play, To A Bedroom Devoid Of Love, is literally set in a mooning bedroom after a romance goes to ash and the six-tracker is enveloped by the pervading yet undoubtedly painful process of self-introspection and soul-searching drowned out by scrawny ballads and lo-fi rap-songs.
Perhaps not intended in any way as a soundtrack to the dreary of 2020, or in any way professing clairvoyance of those grim months of waking up alone at the height of lockdown, TBDL still exists as both symptom and result of the time it finds itself in, contextualizing loneliness like no other project this year did or, perhaps, ever will. TBDL has music to cry under a shower to; music to laugh ruefully to; music to snort your nose to; and, hopefully, at some point in the future, music to start rebuilding the bricks of your life to.
My conversation with Jake Doe, lightly edited for context and clarity, follows below.
Who is Jake Doe? What's the motif for your music? 
I'm just a guy...I'm just a guy who loves music. Music makes me feel good. It makes me happy. When I started making music, it helped me a lot, throughout my late teens till now: it helped me face everything. Like the Bible says, "It's blessed to give than to receive." So, at first, when I was receiving, I was enjoying it a lot — it was like, "Shit, I could listen to this a lot and be happy" — but when I started writing my own song, I started giving out to people and watching the reaction of people enjoying my music and fucking with it. They'd come and be like, "Your music is fire," and there's more happiness in that. I'm not trying to say there's no happiness in listening to music but every creative out there would understand when I say when you give your art to the world there's more happiness. And I make my music because I want to see people happy and I want to let people understand how I feel, to express myself, and educate as much as I can.
How did it get to a specific point when you chose music as a career? 
It's funny because I've always made music. I've always been writing music. I've always been singing since I was a kid. It's almost like I've always known that I was going to make music. But when I decided to take music seriously was when I first recorded at the studio with two of my friends. We got there, I just had an accident, and I was on crutches — I was 15. What we planned to record from the house was not what we ended up recording, there was a problem with the beat so we had to get a beat right there and we started writing to it. It took me like 15 minutes and I already had my verse ready; my friends too. We were set to do it. It came out and it was fire, everybody was like, "Sheesh, you did this?" At that point in my life, I was like I could do this for real. I wouldn't say that's the point when I decided to make music for the rest of my life, that'd be when I made a record and someone came to me and was like, "Bruv, at this point in my life, I listened to your shit and it helped me through that phase." It was a song I made called "Grown Up," it happened then and it also happened after I released "Quarantine." Since then, I've always felt like maybe this is what I'm supposed to do.
How did people interacting with your work help you as an artist?
It was a huge boost because I've never lacked confidence in my ability to deliver good songs. I've always written good songs but moving from that into touching lives is a whole different experience. When someone tells you this record did this to me or I can't stop listening to this record — the way you said this or the way this was said — that's one of the best feelings in the world. I recorded a song in 2015, a top rap act in the country recorded a song and I released something for him. He told me that at that point in his life he was about to quit music because he wasn't really feeling it. Then I said that verse that addressed somethings he was facing in his life at that moment and it was a boost for him too. Having a legend tell me that, I just knew that this shit was mine and if I didn't do it, it'd probably be through a fault of mine.
What is Jake Doe's sound? 
It's usually hard to describe music these days because no one is trying to be conferred to a particular genre of music or say I make just this kind of music. For the record, there's nothing wrong with making a particular type of music or a specific genre. Fela did it and he's still regarded as one of the greats of all-time and Bob Marley did it. So I feel like it's nothing wrong but it's just not me. That's just not who I am. I grew up on different types of music. I had uncles who'd be at home and all they listened to was Makossa, Awilo Longomba, and other Congolese musicians. I had aunties who came and all they listened to was Celine Dion, listened to Whitney Houston, they had all the classics. There was my older brother who listened to just rap. 2Pac, B.I.G., Nas, I grew up on that too. I grew up on my elder sisters listening to Westlife, Backstreet Boys, R. Kelly, we listened to all those guys. And people don't understand what impact that has on a kid who has talent because I can never be confined to any type of music. My dad listened to classic Lionel Richie, the Beatles, and all that. Even if I tried I could never make one type of music because even in the studio when any beat is played I'll vibe on it. I might not release it but I'm definitely going to kill it and it's just what it is. My music is timeless, youthful sounds, I want to make the kind of songs that when I'm gone people would still listen to it, still fuck with it. But being genre-specific, I do hip-hop, R&B, and Afrosoul.
What has changed for you as the artist you were when you first actively got into music? 
People are scared of change, I'm not...so far it comes in the form of growth. And I've grown a lot as an artist. When I opened my SoundCloud at the time I used to, basically, just rap, I knew I could sing but I was only rapping, do my hooks myself, do back up for other artists but the main songs that I released at these time were mainly raps. It was not until 2018 that I decided to take becoming a vocalist seriously and that changed my life because I went from bruh, your lyrics are so dope, you're lines are mad to I love your music. I think that's the change, that's the growth. When people can stop calling you dope and calling your music wonderful or lovely. That's when you know you've grown, that's where change is in.
I specifically love how singing and rapping collide on your projects, how do you approach it to achieve that balance?
I have no particular way of creating projects. Sometimes I might have instrumentals that I have to write to and vibe to. There are other times I have ideas already down, then I get instrumentals that fit, beats that fit the storyline that I already have. Sometimes I just freestyle, I just start singing out loud, and I record them on my phone, then we make the beats to suit that. To a Bedroom Devoid Of Love is the perfect example of my freestyling, all the songs on TBDL were freestyles except from "Ja." All the songs were freestyles, pure freestyles. I just started singing out loud, I still have the recordings on my phone. And that's how it started, I'd later take my notepad and wrote them down, go to the studio and tell them to make the beats to suit them and that was it. But Terms and Conditions was not like that. I already had beats for that. What I ensure is that my projects are bodies of works, not just complications. I have like a team and we make sure that they tracklisting and everything comes together wonderfully so that when you're listening to the project you know that you're listening to a body of work. You know you're listening to an artist that took time to ensure that you experienced the project, you experienced everything coming together. There's no straight way, just that at the end of the day people have to understand that this is a body of work and they have to enjoy it like that.
To A Bedroom Devoid Of Love sounded so real, was it a reaction to an actual live happening or was that just your process taking over?
TBDL sounded like that because at that particular time I was in my bedroom out of emotions or fucks to give about love and I was looking around me and I was seeing things — the verse we started with was not on the project and I'm mad that it didn't enter because it was fire but it didn't fit how I was feeling as regards love, it touched how I was feeling as regards something else, so I didn't put it. But (for TBDL), I looked around me and the first thing I saw was the sky near my window and it was in the morning, so that was morning skies but I switched it to "Mourning Skies" because I was feeling sad at the time. After I did that my friends came around and the whole squad just pulled up and we got talking and they asked if I wanted to go out but I was like, "Nah, I'm good," so they chilled with me for a bit. We played games, had fun, then they left; that was "Squad Games," how to battle depression when you're with your gees. I read books a lot, I'm a books guy, so, I saw a lot of books in my room, and I went (opening part of "Books"): "See books, I read books." It was crazy because the babe that I felt out of love with wasn't even that kind of person, so I was like, "Yo, why would I be with a person who doesn't like reading books or getting knowledge in some type of way." I was trying to explore that with "Books," saying that any girl I'm going to be with in the future has to be someone who loves books as much as I do. Of courses I was on my bed then I looked by my sides and saw my pillows and the bedsheets ("Pillows and Bed Sheets"). "Reason" was a different event, that same day, I was walking on the road and I just started freestyling. With "Ja," I calculated bringing all my feelings together and actually writing about how I wanted to feel from that point on regardless of what I'd been through and how I wanted to make my woman feel and the type of love I wanted for myself. I wanted to end the project on a light note.
How did you arrive at the title? 
The project was titled TBDL at first. To be determined later. Because at the time I didn't know what I was going to name it. So I was like let's just call it TBDL because I was working on my LP at the time but I just wanted to document that moment when I was feeling how I was feeling. So, I was like let me just make this project and call it TBDL but going over it and thinking about where I was when I made it, I realised that I actually made this when I was in a bedroom, devoid of love. So it was an ode to that because that's what birthed the whole inspiration.
On Terms and Conditions, there's a song, "Flowers," and on To A Bedroom Devoid Of Love, there's "Books," how do you get in the zone to write songs about this inanimate objects with that much personality? 
I would say a lot of us youths are always in a hurry to move through life. We want to be where it's popping, we want to be online all the time, get the latest gist, and do this and do that. Often, we don't stop and look around us. Look at flowers, look at the sky, birds chirping, and books just gathering dust on the shelf. I just feel like stuff people think doesn't matter actually matters and I just try and bring that into my music. I can't write it off as something I just do and I can't also say I also have this formula for doing it, I'll just say I've always been a book reader. I've read maybe 200 books since I was eight even if I don't read as much as I used to. Reading books from master storytellers has a direct effect on my abilities as a songwriter to bring life into inanimate objects.
What are the things that excite you presently as an artist?
I enjoy the little things I can right now. I have homies that are freakishly talented so I am enjoying the process of watching them make magic; watching them create magic; all of us making music. Being in their midst, I see that I have to step up because these guys are out here making great music and I know that I can't stop. I cannot relax. If my homies are killing it, I have to kill it. If I'm killing it, they know they have to kill it; so I'm enjoying that.
Stream To A Bedroom Devoid Of Love.
New Heat: Three songs you really need to hear 
Ignis Brothers - "Alien At Home"
Nothing about the excellence of the Ignis Brothers' first album is surprising. Their inclining trajectory had always suggested that they would put out a sonically-sound body of work to rival any project coming out of Nigeria when set. And they deliver admirably on The Cost Of Our Lives combining the earthy production of the underground with an eclectic palette of influences. On "Alien At Home," those elements combine with strong songwriting for one of the album's most gratifying crescendos over stirring minimalist production.
Stream here.  
Tune Khalifa - "If I Die"
Tales of the Mad Goat is an album of slick, melodious rapping that has its near-borderless mass permeated by thoughtful soul-searching. At a time when most of Nigerian hip-hop is riddled with bombastic self-aggrandizement, Tune's album is different, revolutionary even as a quest for tracking himself and his artistry. "If I Say," following the extensive self-spiel of "He Speak (His History)," has some of the most self-aware rapping on the project, examining his place in people's lives and the fickleness of it all.  
Stream here.
Sunkanmi Stephens - "Ife Ni"
In a week filled with loads of music, great, rote, and unimaginative, Sunkanmi Stephens' "Ife Ni" stands out for its crystal-like feel and the fluidity that it seems to run on. There's impressive penmanship on Stephens' debut track and over dewy production paired with muted drum kicks, he delivers a number in the true image of classical R&B-Soul hybrid songs.
Stream here.