YHHF! Vol. 5: BOLG is ready for you
+ new heat for you
Big Talk: Bolg is ready for you
Obafemi Awolowo University might not seem like much to an outsider but it is currently providing the Nigerian music industry with some of its most dynamic artists. This creative alignment started roughly six years ago when Chinko Ekun inked a deal with Olamide's YBNL while he was still a law student at the Ile-Ife-situated university. These days, it's Fireboy DML who is blazing a trail as Olamide's protege and one of Nigeria's most highly-regarded talents. Then there's Blaqbonez who is influencing music and Internet culture simultaneously. If you dig just a little bit deeper, you'll also find Superboy Cheque affiliated with Phyno's Penthauze music and creator of the pleasurable Razor E.P. Anyone who was at OAU from 2011 to 2017 can tell you about the music culture. It was loud, interesting, and creatively dense. But, also, there was a lot of rapping. And it was easy to get carried away by the rap culture in a bid to be prominent.
BOLG, a student at the university at the time, certainly understands that. Born Gbolabo Dare Ogunbile, the musician's first song on campus saw him try to match bars with Chinko Ekun instead of sticking with the sugary singing and inventive songwriting that is making him one to watch out for now. The result is something he doesn't even know if he'd want to play for anybody now. "My guys told me, "Guy, you no fit dea do this rap thing o,'" BOLG tells me mid-laughter one Wednesday in August. Last year marked a return to his elemental influences: fun-infused pop anthems garnished with stripped-down influences from a number of genres.
"Jejely," his first track of 2020 flips afrobeat's signature tonality into pop territory to craft a nice earworm and latest track, "Sempe," is a continuation of his creative rejuvenation. Built around gorgeous horns and an atmospheric beat, BOLG's voice rises and falls till it flat-lines into an instantly recognizable chorus.
As he says several times in our conversation, he's ready for more. We talk about growing up with music, OAU, growth, and
Our conversation, lightly edited for context and clarity, follows below.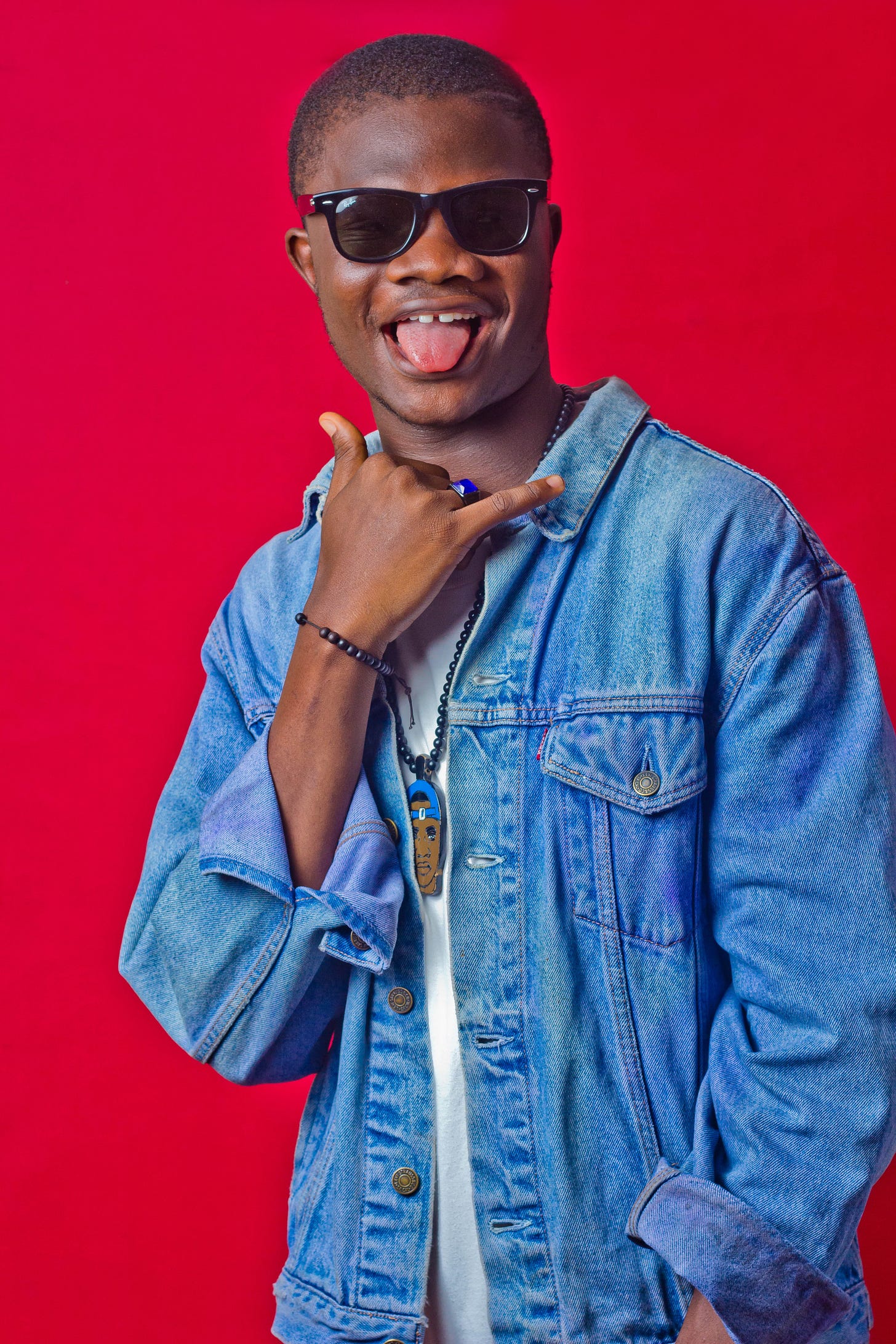 How did music start with you?
Music started with me in childhood. I liked it because my uncles would play music and that just influenced me but it really got intense when I got to the boarding house, I was ten. With the way boarding houses are in Nigeria, school fathers, and all, them playing songs. I remember Plantashun Boyz being the in-thing, Zule-Zoo, and, later, D'banj. He was the guy that made me really concentrate on Nigerian music, I started falling in love with it and I felt I'd make music someday.
Were there specific experiences that shaped your artistry?
I remember the first experience where it crystallised that I was going to do music as a profession. Before 2013, I'd been doing demos and recording songs, but, as a new guy, it wasn't really popping. 2013 was the year when I went, "I go do this thing." April Tunes, maiden edition, TY was a judge, Sound Sultan, Waje, and Tosyn Bucknor of blessed memory; and out of 49 contestants, we were rated number three. That really inspired me. Even though it was hard to convince my family, because of the insistence on school and all. Although, my dad was also an influence. He likes D'banj a lot and played him a whole lot, but he wasn't really expecting me to say I was going to make music. So, I started watching D'banj's performances and started following him and the whole Mo'Hits era. That was it, but there were breaks in-between. Gaps to go to school. But D'banj, King Sunny Ade, and Lagbaja influenced me a lot.
You mentioned school. How was it like juggling that and music?
It wasn't easy but I gestured from the Linguistics Department, Obafemi Awolowo University, Ile-Ife.
There was a thriving music culture at O.A.U. for much of the last decade, did that have any influence on you at that time?
The whole O.A.U. thing was like if you couldn't really rap, if you couldn't do freestyles you were not really in the thick of things. So, at some point, that affected me because the first campus song I had was with Chinko Ekun, and I can't even play it for anybody right now because I was trying to fit into the OAU terrain because it was a whole new thing for me. For a while I did rap, did the first song with Chinko Ekun, my guys told me, "Guy, you no fit dea do this rap thing o." So I took a long break but I kept writing. I was trying to conform instead of doing what I loved to do because of what I saw around me. But I later decided to just keep singing and work on my self-development but, now, I'm ready.
When would you say you got back to doing the sort of music you enjoyed?
I would say late last year. Because I started making covers and freestyles. Ogagus was the first person to acknowledge my cover of Kizz Daniel's "Jaho" and after that, I released a cover of "Jore," and Adekunle Gold saw it and was like this is fire. I saw a lot of positive responses. And after I recorded a whole lot of songs, I played them for people and they were like, "this is it." I played "Sempe" and they were all like, "This was the record." Now, it's a whole new challenge for me and I'm ready.
What lessons have you learned from your 2013 self till now?
The major lesson is that not everybody will like your music and the moment you understand that you don't have wahala. You'll keep moving at your own pace and they'll catch up. There's also the fact that anybody can disappoint you, so you have to be watchful. You also need to respect yourself and take everything seriously. Those are the major lessons.
Is there a career path that you're following or just a larger plan that dictates how you move and all?
Yes, there is. I have a project coming and I want to see how far "Sempe" goes. I've played it for people and I've got good feedback from people. On the other hand, I've been working and making more music. But I want to see how far it goes and what I'm bringing to the table before I start talking about a project. One step at a time.
How did you make "Sempe"?
The "Sempe" idea came when I was watching African Magic Yoruba. The idea of the movie (dressing not determining who you are) got stuck in my head and I ended up coming with an idea that suited that. Kannon mixed the song after I recorded it at his place. I just posted a video on my status and people started asking who it was. The reaction was mad and they liked it. After I recorded, I sent to a number of guys who wouldn't lie to me and they liked it too. I knew then that that was the song to drop next.
How important is it for you as a rising musician to have those people that keep it real with you in your corner at all times?
They are very important people to me because regardless they are the ones to tell me how it is, they don't care about whatever way I feel. I respect them a lot because you need all these people to tell you how it is and put you in check.
Stream "Sempe" here.
New heat: Three songs you should hear
Remy Baggins - "Gboju!" ft. Psycho YP and Mojo
Remy Baggins, a.k.a enigmatic rapper, singer, producer, and auteur, has a new project coming out soon. In keeping with the avalanche of Japanese influence on his works, the latest project will be titled Amaterasu! - Japanese sun god and herald of nobility - and two songs off it are out now. "Gboju!" featuring  Psycho YP and Mojo is the real firestarter as the trio combine to deliver a hip-hop showcase over haunting Telz production. A gem!
Stream here.
Temilayo Aboderin - "Ayo (Joy)"
Something about gospel music makes it soothing when it is properly written and performed. Delivered with a dose of Yoruba and horns, it is downright fantastic. Temilayo Aboderin's "Ayo (Joy)" has all these elements and more, with a calm voice and precise writing, it provides the kind of singing that has the capacity to transcend even gospel.
Stream here.
Bizzonthetrack - "Banuso"
If you want to get to know a bit about the attraction of last week's interviewee, Bizzonthetrack, listen to "Banuso" off his (Bisi Kuti) Deluxe. A quintessential pop anthem that is addictive and would have soundtracked summer parties if only we were having them.
Stream here.